Overview of The Communities of

Cedar Creek
Cedar Creek is located within the city of Olathe, Kansas, a suburb of the Kansas City Metropolitan area. Most residents would describe Olathe as a small town within a big city. Approaching nearly 142,000 in total population, Olathe is the second-fastest growing city in the state of Kansas and the second-largest city in Johnson County.
Olathe is also one of the most dynamic and fastest-growing business communities in the country. Major employers in the area include Honeywell, Aldi, Olathe Medical Center, and Garmin International.
A big advantage of living here in Olathe is its close proximity to Kansas City. Just 30 miles from downtown, our small-town atmosphere with big city convenience makes Olathe, Kansas, the best of both worlds!
Local Amenities – Recreation and Culture
Located in Johnson County, Olathe boasts more than 4,600 acres of parks and an innovative Streamway Parks System. Unique to this part of Kansas, there are numerous public and private golf courses residents are encouraged to utilize. Live sports something you enjoy? The Kansas City Royals and the Kansas City Chiefs are popular attractions drawing crowds from several neighboring states.
Festivals are prevalent in our area and include many you are probably already familiar with, including the Renaissance Festival, Kansas City FilmFest, and Plaza Arts Fair. In addition, numerous outdoor theaters, theme parks, lakes, and the historic Kansas City Zoo round out the myriad of recreational opportunities in our surrounding area.
Cultural activities are essential to the Kansas City area as well. Residents can choose from the nationally recognized blues and jazz clubs, the Kansas City Symphony, the Lyric Opera, the Kansas City Ballet, and more. In addition, the Nelson-Atkins Museum of Art is ranked in the top 15 general art museums in America. And if you travel to the historic 18th and Vine district in KC, you can experience the Negro Leagues Baseball Museum and the American Jazz Museum.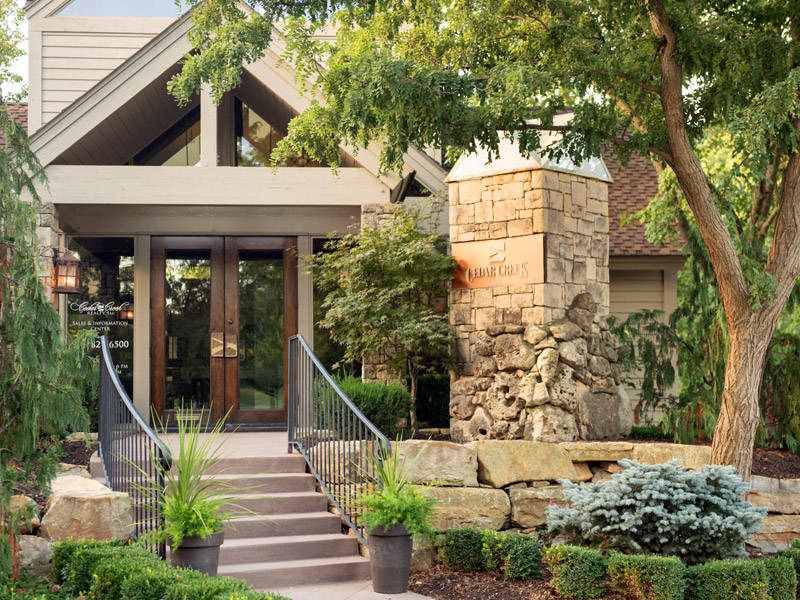 Local Amenities – Shopping
The Kansas City Metro Area is home to a wide variety of unique shopping experiences. You can find national department stores, outlet malls, small specialty shops, and giant discount retailers just minutes away from Cedar Creek.
Oak Park Mall – Located only 12 minutes from Cedar Creek, Johnson County's biggest mall includes Nordstrom, Dillard's, J.C. Penney, Macy's, and many other dining, retail, and recreational tenants.
The Country Club Plaza – The first outdoor shopping center in the nation, the beautiful, acclaimed, and often-imitated Country Club Plaza is located approximately 30 minutes from Cedar Creek. The Plaza is anchored by upscale tenant stores, including Anthropologie, Apple, Tivol, Tiffany & Co., Tommy Bahama, RE: Emporium, Barnes & Noble Booksellers, and more. The Country Club Plaza is also known for its fantastic Christmas lights display and a myriad of fine dining and entertainment establishments.
Town Center Plaza – This 750,000 square foot open-air center is the largest of its kind in Johnson County. Rivaling the Country Club Plaza in design and tenant mix, it offers upscale shopping with many stores catering to middle-income and upper-middle-income customers. Its anchor stores include Barnes & Noble Bookseller and Macy's, with many other specialty stores, restaurants, and even a 20-screen multiplex theater completing this exciting area. Town Center is a short 15-minute drive from Cedar Creek.
The Legends Outlets of Kansas City – Kansas City, Kansas' premier outdoor shopping and entertainment center and the only designer outlet center in the region. It is a true entertainment destination shopping experience with retailers such as Cabela's, Nebraska Furniture Mart, and many more, joined by NASCAR at Kansas Speedway, professional soccer including both the men's Sporting Kansas City MLS team and women's KC Current NWSL team at Children's Mercy Park, Kansas City Monarchs Baseball, and more.
For More Information About Cedar Creek